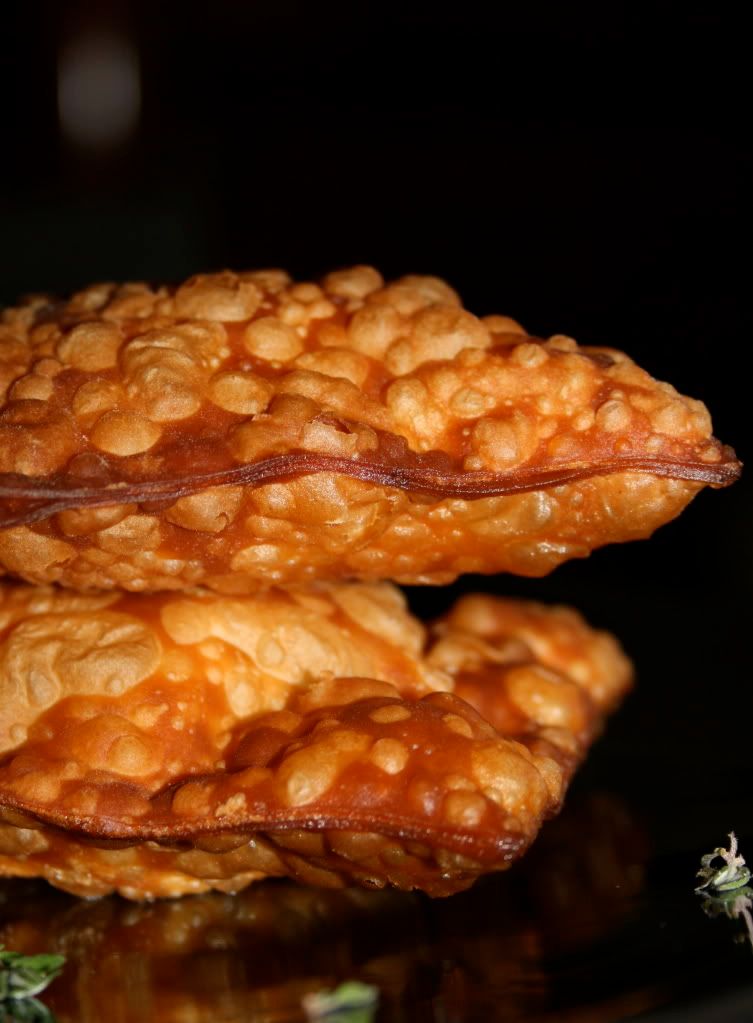 I never really serve this as an appetizer, it's too heavy and very filling. By the time you serve you main dish, your guests will be too full to fully appreciate the star of the dish. If you do want to serve this as an appetizer, maybe you can make it into bite size, and don't make too much. I would normally make it as an afternoon snack when we have friends coming over to visit with their kids, or just a nice gathering in the afternoon.
Deep frying this Samosas with olive oil make myself feel less guilty, choose any oil you like if you think using olive oil is too expensive. Using wonton wrapper is also very convenience, and doesn't really bother me that much if my samosas is not an authentic one.
Ingredients:
1 package wonton wrapper (depending on how many samosas you are going to make, you my or may not have left over)
3 large potatoes, boiled and coarsely mashed
1 tsp ground coriander
1 tsp ground cumin
1 shallots, finely chopped
2 green chilies, finely chopped (optional)
½ cup frozen peas
1 tbs olive oil
salt and pepper to taste
egg white for sealing the wonton wrapper
olive or any vegetable oil for frying the samosas



Heat oil in a large skillet over medium heat, add chopped shallot, fry until soft and translucent. Add the frozen peas along with ground coriander, ground cumin, finely chopped green chilies. Stir and cook until the peas are fully cooked. Add mashed potatoes, season with salt and pepper, mix well. Turn off the heat. Let this filling cool completely before proceed to the next step.


When the filling is cooled completely, lay one wonton wrapper on the flat working area, add about 1 to 2 tablespoon of filling in the middle, brush the edge with egg white, take another wrapper and lay it on top. Press down to close completely. Repeat the process until you have as much or as little samosas you are wanting to make.


Fry until golden brown on medium high heat. I use very small high pan (6½" wide and 4 " high), and put about ¾ cup of olive oil, and fry them one at a time. This way I don't have oil splatter every where. Transfer to rack set on a baking sheet to catch all of the dripping oil. Serve with tamarin chutney, coriander chutney, mint chutney, or any hot and sweet chutney of your preference.