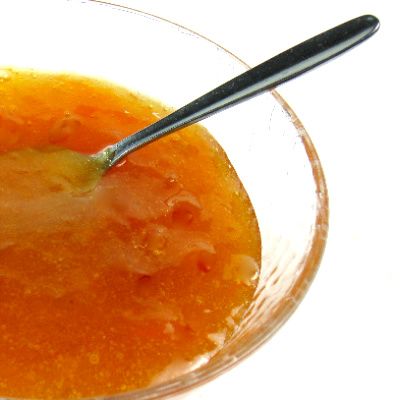 From the kitchen of One Perfect Bite...I have a huge store of dried apricots in the pantry. I used a dehydrator for the first time last summer and my over zealous experimentation led to storing far more of the fruit than I could sensibly use. To make matters worse, I forgot the fruit was stored and didn't find it until I began to clean the pantry today. The apricots still retained their color, so I decided to use them to make some jam and a glaze for tarts that I'll be baking later in the week. I have a crock-pot recipe that uses dried apricots to make jam. The recipe is really easy and the only trick is cooking the jam to the consistency you want. No pectin is used in this recipe because apricots are high pectin fruits and the jam will "set" of its own accord if you cook it long enough. If the jam will be kept in your pantry, make sure you sterilize the jars and caps you plan to use for storage. I actually prefer frozen jams, so I bypass that step and make quick work of the very few steps needed to make these beautiful preserves. The frozen preserves retain a lovely amber glow that is muddied in the sterilization process. I can't over emphasize how important it is to cut or shred the fruit into small pieces. Whole apricots are neither attractive or spreadable. They are actually too large to be used to make either jam or preserves. For those who may not know the distinction between jellies, jams and preserves, I have a super short primer. A jelly is made from fruit juice and has no trace of fruit in it. Jam is made by boiling bits of fruit and preserves are basically the same as jam except chunks of fruit are used. The fresh jam will keep in the refrigetor for up to a month and it can be safely frozen for up to a year. If you wish, small amounts or herbs or spices can be added to the completed jam. Here's the base recipe.
Crock-Pot Apricot Jam...from the kitchen of One Perfect Bite
Ingredients:
1-1/4 pound dried apricots
2 cups sugar
3-1/2 cups water
2 tablespoons lemon juice
1/2 teaspoon salt
Directions:
1) Chop apricots finely using a knife or food processor. Place in a 3-1/2 quart crockpot with sugar and water and stir to combine. Cover slow cooker and cook on high for 2-1/2 hours, stirring twice during cooking. Uncover and add lemon juice and salt> Cover again and cook on high 2 hours, stirring occasionally, until thickened.
2) Ladle preserves into clean, hot jam jars, seal tightly, and keep refrigerated up to 1 month. You can process the jars in a boiling water bath if desired, but follow instructions from your county extension agent carefully. The jam can also be frozen, Yield: 4 to 6 pint jars.
You might also enjoy these recipes:
Pumpkin Butter - One Perfect Bite
Tomato Jam - One Perfect Bite
Popovers and Strawberry Butter - One Perfect Bite
This recipe is also being linked to:
Crock Pot Wednesday - Dining with Debbie