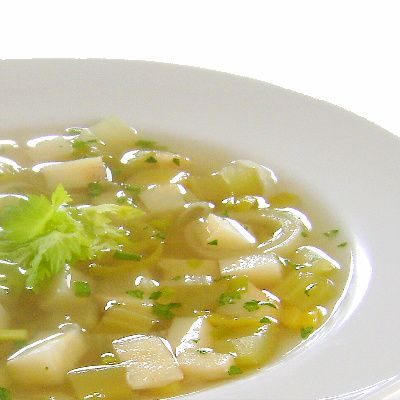 This is a light soup, but it is also substantial enough to be filling. A bit of a contradiction I know, but it really is a perfect soup to fill stomachs while bridging the seasons. When it's too cold for gazpacho, but too warm for a heavy bean soup, you'll be glad to have this recipe in your rotation. I must admit this soup surprised. I made it only because a neighbor had left celeriac on our porch and I had to figure out a way to use it. I have a handful of food writers that I go to when I'm exposed to new ingredients. Patricia Wells is one of them, and, sure enough, she had just what I was looking for. You can have this soup on the table in a little over an hour. You'll be delighted with it's flavor and its texture and you'll be especially pleased by how quickly it comes together. Celeriac, or celery root, is not always available in my community, so I snatch it up when I can get my hands on it. The root doesn't freeze well, but the soup does, so I usually make a double batch to assure I have some on hand. While there are herbs that add to the length of the ingredient list, the soup is made with just four real ingredients. It has made it to my top ten (soup) list and that doesn't happen often. I hope you'll try it. I know it sounds bizzare, but it is really, really good. Here's the recipe.
Double Celery Soup...from the kitchen of One Perfect Bite, courtesy of Patricia Wells
Ingredients:
1 medium celery root (about 1 pound) peeled and diced
10 celery ribs, cubed
3 leeks (about 9 ounces) trimmed, well rinsed and cut into thin rounds
Bouquet garni: 1 large sprig of thyme, 3 bay leaves, several sprigs of parsley, tied with a string
2 quarts (2 liters) chicken stock
Salt and freshly ground pepper
A handful of chopped fresh herbs for garnish: including chervil, chives, flat-leaf parsley
Directions:
In a large saucepan, combine celery root, celery, leeks, and bouquet garni. Add stock, and season gently with salt and pepper. Bring to a simmer over medium-high heat.Simmer until the vegetables are soft, about 25 minutes. Adjust the seasonings. Pour into warmed shallow bowls. Sprinkle with the chopped herbs and serve immediately. Yield: 6 to 8 servings.
You might also enjoy these recipes:
Roasted Butternut Squash Bisque - Petit Foodie
Pumpkin, Barley and Sage Soup - Noble Pig
Roasted Pumpkin Soup - Gourmet Girl
Creamy Tomato Basil Soup - Louanne's Kitchen
Tomato Leek Soup - Living the Gourmet
Creamy Tuscan Bean Soup - Italian Food Forever