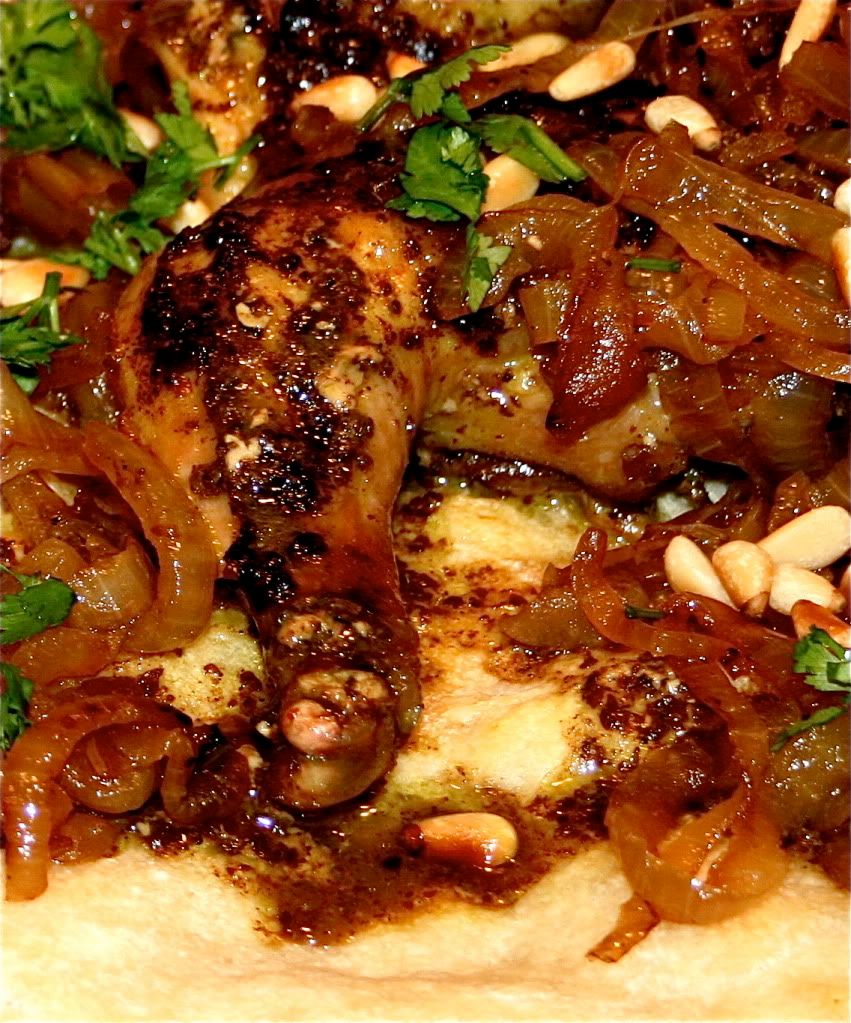 What I really adore about this dish is that you serve it  on a flat bread that served as a plate. The bread absorbed the juices from the dish, resulting in such a delicious specialty. Just in case you are curious, the mussakhan is an Arabic word, means "browned during additional baking". 
You can use any type of poultry or meat/lamb for this recipe, since I don't like big chicken that much, I use 2 small cornish hen instead, each weigh about 1 pound. My husband, my son and his girl friend really like this, so I'll be making it again with better looking flat bread.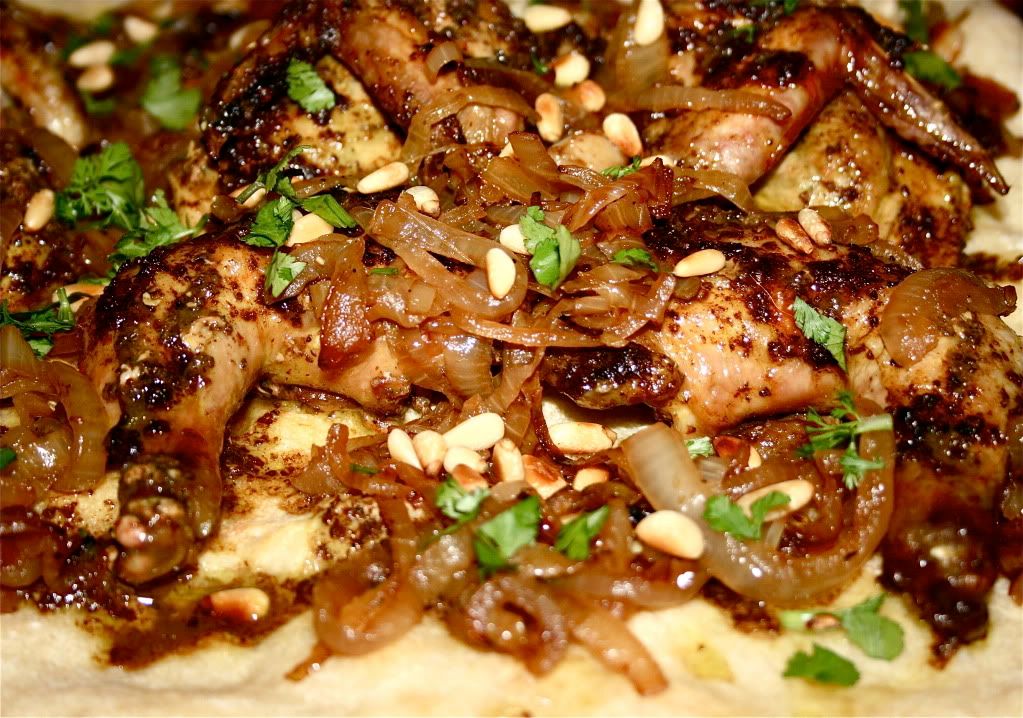 I am sorry, it looks a bit messy here in the presentation, but the taste that it counts right? 
Mussakhan  is pretty simple and straight forward to make. So don't be discourage! 
I normally serve it with fresh herbs such as, mints, cilantro and parsley. It is a fun dish to eat, as everybody at the table tear a piece of the bread and the chicken, add herbs, then pop it into your mouth. No fork and knife necessary. Just your clean hand .... But, if you are not comfortable with it, then use knife and fork. 
MUSSAKHAN
Recipe  adapted from: The Food Of ISRAEL, Authentic Recipes From The Land Of Milk And Honey
by: Sherry Ansky
4 pounds  chicken, clean and buterflied by cutting through a long the breast bone, then flatten with the palm of your hand. Set aside.
Juice of 1 lemon
¼ cup olive oil
2 - 4 cloves garlic, crushed
¼ teaspoon  turmeric
¼ teaspoon nutmeg
1 teaspoon cinnamon
4 tablespoon sumach (can be purchase at the Middle Eastern Store, Iranian store, or Arab store)
salt and freshly ground pepper, to taste



In a large bowl combine lemon juice, olive oil, garlic, turmeric, nutmeg, cinnamon, and the sumach. Add the chicken, coat completely with the spices mixture. marinate in the refrigerator overnight, or minimum 2 hours. 


Preheat the oven to 375⁰F. Transfer the chicken including the marinate on to a baking dish, season with salt and pepper. Roast for 1 to 1 hour and 15 minutes, or until the chicken is cooked thoroughly, and the juices run clear.


To finish:
1  Pita dough recipe*
2 large onion, sliced
2 - 3 tablespoon olive oil
a handful of pine nuts, lightly toasted
1 tablespoon sumach



Fry the onion with olive oil until caramelized. Set aside.


Increase the oven to 450⁰F.


Take the pita dough, flatten into round ( about ¼ inch thick)  to fit the size of your chicken. Place it on a baking sheet and bake for 5 to 10 minutes depending how thick your dough is. Take it out from the oven, transfer the pita on a large serving dish. Place the chicken on top of Pita bread including all of the delicious juices/drippings, add caramelized onion, sprinkle with  sumac, and garnish with toasted pine nuts. Return to the oven for 5 minutes to brown the top (I skip this part, as mine was browned enough already). Serve immediately!


*Pita Dough:
3 cups bread flour
2 teaspoons active dry yeast
2 teaspoon salt
2 tablespoon olive oil



Place all ingredients into a mixer bowl, add enough water (more or less 1 cup) to make a soft dough. Knead the dough with dough hook attachment on medium setting for 10 minutes. Gather the dough into a ball, place it on a clean bowl, cover with plastic wrap, and let the dough rest until double in volume for about an hour.